We Can Duplicate or Replicate Your Old Cover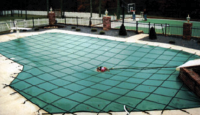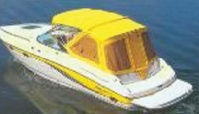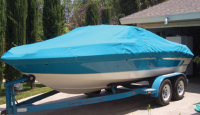 "Hundreds of Satisfied Cutomers"
Custom Cover Duplication Services
Ameri-Brand Products Inc. now offers its Custom Sewing Services to the general public using your old unit as a pattern. We use your choice of various fabrics and can duplicate nearly any type of cover you might have. The accuracy of our duplication is excellent.
GET SAMPLE PRICING! ▶


For Boat Covers & Bimini Tops
Our "Copy Cat" Program is Simple
Give us a call to see if your project is viable.
Ask for the Custom Sewing Department
If viable, obtain an authorization to ship # and print the Quote Request Form & Shipping Label.

Please DO NOT send us your product without an authorization to ship # as it will not be accepted by our shipping department.
Send the item to us for inspection and quotation.
After we receive your cover and review your project, we will be able to give you an Exact quote on the price to replicate your item. If you accept the quote and the time frame, we will secure payment (usually through a credit card) and we will complete your project and then ship it to you.
If for some reason you are not satisfied with your quote, we will pay to send your product back to you. You have nothing to lose, except the shipping charges to get the product to us!
Note: Once a duplicate is made, we do not return your old item. It is held for 60 days after the shipment of your duplicated product to allow you to verify a proper fit. It is then discarded.
See What People Are Saying!
"I received my cover Friday as promised. Great updates from the company, kept me well informed all the way. This cover is outstanding! It is more robust and better put together than the old one. Pride in workmanship is obvious, the people that made this cover are very highly skilled professionals. The cover fits perfectly, and looks beautiful! You and your company will be getting repeat business from me, and I will recommend the company to my boating friends." - Walter B. Crystal Beach, Florida
Duplicable Items:
Bimini Tops

Sample CopyCovers Pricing for Boat Covers and Bimini Tops

3 and 4 bow bimini tops in nearly any size you would like. Duplicated to fit your original frame. Fabrics include Sunbrella acrylics by Glen Raven with over 60 colors available. Also manufactured in water repellant vinyl, and polyester blends. Can be fitted with clear panels for overhead view. Or you can PURCHASE A NEW BIMINI TOP.
NOTE: All bimini tops come with black or white binding.

Boat Covers

Sample CopyCovers Pricing for Boat Covers and Bimini Tops

Have a special cover that is no longer available and want a copy of it? We can make you a cover to fit your boat. We have a large supply of marine fabrics on hand. Mooring and travel covers are welcome. Or you can PURCHASE A NEW BOAT COVER.

Snap on Boat Covers, Bow Covers & Cockpit Covers

We complete many duplicate or replacement "Snap On" covers each season. Every year our workload increases as the word spreads about our unique program. In many cases, we supply the snaps and a snap tool in order to allow a perfect fit on the snaps. Very close to an OEM product.

Snap on Playpen Boat Covers

If you need a Playpen, Deck boat, Pontoon boat, or Patio boat cover similar to your OEM product, the "Copycover" program may be for you!

Another Playpen Boat Cover in Blue

Convertible Boat Tops

These are typically the white vinyl tops that come with the boat from the factory. They look like a bimini top, but are normally attached to the windshield with chrome or stainless steel snaps.

Boat Camper Tops

This type of top is zipped on to the rear edge of a sport/convertible top. The camperback top is normally attached on the back of a convertible top. It usually has its own frame. They typically cover the rear of the boat all the way back to the stern. There is usually clear windows involved and also there might be screen utilized. Methods of installation include zippers, snaps, or Velcro.

Boat Side Curtains

These are the side curtains that usually zip into place on a convertible boat top or a camper top.

Manual Swimming Pool Covers

We can remake your inground swimming pool cover in either mesh safety cover material or solid vinyl. We can duplicate nearly any brand of cover to exact specifications. For more information view the duplicate swimming pool cover details.

Automatic Inground Pool Covers

Typically made of solid laminated scrim reinforced vinyl. The scrim is usually made of polyester or nylon. Ropes or straps are common methods of moving the cover on and off the pool.

Car Covers

If you do not have your old car cover, we have the patterns for most vehicles and offer a great selection of fabrics. These are Custom Fit covers! You can PURCHASE A NEW CUSTOM FIT CAR COVER. If you have an existing cover that was custom made for a special application, we can duplicate it off of your original.

RV Covers, 5th Wheel, Travel Trailers, etc.

Styled-to-Fit RV Covers from Carver Industries are made from true loom-woven 6 oz. fabric. Our fabric is soft and durable, constructed of 300 denier filament polyester yarns. Expertly woven and treated with a marine-grade water repellent finish that contains state-of-the-art UV and mildew inhibitors.

Sand Box Covers

We can replicate your old sand box cover or design something completely new for you. Contact us with details for an estimate.

Truck Tarps

We can replicate original tarping systems giving you a completely new identical system. We use only the highest quality materials in the reconstruction. Because there is no middleman, you receive the product at factory direct pricing which is generally much lower than the competition.

Awnings (roll out and fixed)

If you have an old awning that needs replacement we can copy the existing awning and give you an exact replica minus the years of aging. We also offer a complete line of new awnings which you can choose from.

Heat Sealed Projects

If you have any project that requires a large amount of heat sealing please contact us with details. We will be more than happy to give you a quote after receiving the details of your project.

Pop Up Tent Trailer Replacement Fabrics

Replacement covers are made of 10.10oz poly-cotton blend fabric which is treated to resist water and mildew. Custom colors and fabrics available on many models.

Sailboat Replacement Sails

We also offer the Copy Cover service to sailboat owners who are looking to replace their old and weathered sails.

& MUCH, MUCH MORE!

If you can imagine it, chances are we can fabricate it! We're known in the industry for our custom/special projects. Give us a call today at 1-800-982-6966.
Pricing Estimate:
For an estimate of what the copy will cost give us a call at 800-982-6966. All units sent to us for duplication must be cleaned prior to shipping and an Authorization to Ship # must be obtained. To see if your project is one we are able to complete or receive a price estimate, please give us a call (Toll Free) at 800-982-6966.
---
Contents Copyright Copycovers.com

---
800-982-6966

Ameri-Brand Products Inc.
4619 Olive Hwy
Oroville, CA 95966
---
Ameri-Brand ..... It just Keeps Getting Better & Better!
---